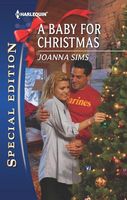 THE OTHER TWIN BROTHER
Marine Captain Luke Brand has come home with one mission on his mind: to make amends with his identical twin brother's widow. They've never gotten along, but for the wounded soldier, establishing a connection with his yet-to-be-born nephew is a top priority--and failure is not an option. Still, he has to make peace without revealing his secret--that he's madly, completely, head over heels in love with Sophia Lee Brand.

The last person Sophia wants to see this Christmas is Luke! She is too vulnerable and, well, too pregnant for the disruption. So why does she blush when he smiles, or her heart quicken when they touch? His looks are all too familiar--but he stirs up emotions she has never felt before. Perhaps a kiss under the mistletoe will make both of their Christmas wishes come true?
Excellent book with plenty of emotion. I loved both Luke and Sophia. Luke was home to recover from an injury and also to make up with his brother's widow. He has spent the last ten years hiding the fact that he's in love with her. Now that his brother is gone Luke is the closest her baby will have to his father. He spends the first week he is home alone with Sophia as they learn to deal with Daniel's death and try to forge a new friendship. Luke is a man who has never been good at sharing feelings and Sophia is a psychologist who talks a lot. Many of their conflicts deal with his not talking to her. I really liked the way he was so careful about trying to not upset her. You could see how much he loved her and how hard he was trying to not give in to his feelings. Sophia had spent years trying to figure out why her husband's twin didn't seem to like her, why they couldn't get along. Now that she and Luke are alone together they are finally starting to put their past animosity behind them. At first she thinks the feelings she is having are just because Luke is Daniel's twin. Then she starts noticing more of the differences than the similarities, and this makes her very nervous. She doesn't want those kind of feelings for Luke and feels terribly guilty about them. She is stunned when she accidentally finds out about Luke's love and it takes her mother-in-law's talking to her for her to understand. Luke and Sophia spent so much time dealing with the issues that were keeping them apart that it was so very satisfying when they did finally get together. I loved the closeness of the family and how they were there for each other. The kitten was a great little critter and I loved seeing him with Luke. I'm looking forward to seeing more of them in future books. I found it interesting that in the first half of the book Harlequin's typical refusal to capitalize Marine was evident, but for most of the second half it was properly capitalized. Go figure. I am looking forward to reading more books by this author.