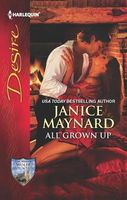 Series: Men of Wolff Mountain (Book 5)
Believing Sam Ely was the only one for her, young Annalise Wolff threw herself at him. But he claimed he was too old for her…and that she was too forward. Seven years later, she's still reeling from his words, vowing never to forgive. Then she's offered a job she can't refuse.
Although it means working closely with Sam, Annalise is determined to ignore age-old feelings. But then a snowstorm strands them together…without power…without family interference…without inhibitions. And Annalise has to decide if falling for Sam again is worth the risk of a second broken heart.
Very good book. Annalise is the only girl in the Wolff "pack". Because of her mother's death and their isolation on Wolff Mountain, she was never exposed to the normal things a girl would learn from hanging out with other girls. As a result, she did things she probably wouldn't have done otherwise. Her hurt and anger from Sam's rejection are still with her and have affected her even now. When she is offered a chance to work on his grandparents' house, she can't say no. When they get snowed in at the house, Annalise realizes that her attraction to Sam has never gone away. She decides to give in to the attraction but tries to keep her emotions out of it, not wanting to risk her heart again. Because of her upbringing and issues she feels that she will never marry and have children because she doesn't want to risk doing something wrong. This is especially hard on her when she discovers that Sam wants to find the right woman and settle down and have a family. She would love to be that woman, but her fears make her unwilling to try. Sam rejected Annalise all those years ago because he felt he was too old for her. He was attracted to her even then, but unwilling to take the risk. Since then he has regretted the way he rejected her and would really like to make things right. When they are stranded together he has a hard time controlling his reactions to her. He would love to have a relationship with Annalise and see where it might go, but her attitude toward having a family makes him cautious. He discovers that her attitude covers up some deep seated insecurities and does his best to show her that they are unfounded. Their physical relationship is explosive but their other issues are preventing them from moving forward. I really enjoyed seeing Annalise get to know Rachel and her baby and learn that parenting is not an exact science. The conclusion, especially with the part about the cake, was fantastic.