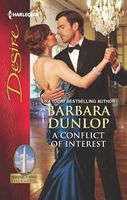 Series: Daughters of Power: The Capital (Book 1)
She tried to stay away from him….

More than once, White House PR specialist Cara Cranshaw has considered that reporter Max Gray might want her only because he can't have her. Given their work, a relationship is dicey -- and impossible now that the president has taken office.

For Max, their relationship may be a lark, a fling -- maybe she's just another woman in the long line that forms a part of his bachelor lifestyle. But for her, what they have is different. She's all but given him her heart. And now she is having his baby.
Very good book. Cara and Max had been involved for a short time but they can't be now. With her job at the White House and his as a reporter there is too much risk to them both (reminds me a little of CJ and Danny in West Wing). The problem is that their attraction is too strong and they can't resist it whenever they find themselves together. Cara is very good at what she does and doesn't want to risk her position. She also can't stop thinking about Max and now that she's pregnant she doesn't know what to do. Max has made no secret of the fact that he doesn't do commitments and he never wants children. This upsets her but she doesn't want to trap him into something he will come to resent, so she doesn't know whether to tell him or not. Max is used to brief flings but finds himself not wanting to let go of Cara. Even though a relationship could mean the end of both of their jobs he can't stop trying to be with her. This creates a conflict in him because of his decision to be relationship and family free. He feels he is a bad bet because of his father's actions. But the more that they try to do the right thing the more that Max wants to be with her. Cara is also dealing with a crisis at work as a previously unknown illegitimate child of the president is made public. She and Max are both trying to find out the truth. This question is not resolved in this book and I expect it will continue through this series. There are several great scenes in this book but my favorites are Max and the snowboarders and Max's appearance at Cara's apartment at the end.