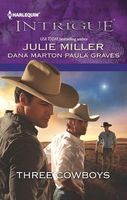 This Christmas, the McCabe brothers are coming home to Texas…

Virgil by Julie Miller
Detective Virgil "Bull" McCabe hadn't been back on the J-Bar-J Ranch in more than a decade. What he finds is his family in turmoil and his childhood friend, Tracy Cobb, all grown up…and more beautiful than ever.

Morgan by Dana Marton
It took a lot to bring ex-soldier Morgan McCabe home. But when his brothers sent out a call for help, that was all the incentive he needed. Once there, though, it's his former flame, Dakota Dayton, and her toddler son who might just convince him to stay.

Wyatt by Paula Graves
Sheriff Wyatt McCabe has faced a lot of criminals, but none as ruthless as the one holding his sister hostage. Now, forced to work with Elena Vargas, Wyatt has to ensure his family's safety without giving in to his burning attraction to the gorgeous agent.
I really liked this book. There are three brothers whose stories are written by three different authors. I enjoyed the way it was written with each story building on the previous one rather than three completely different stories. The main thread is the kidnapping of the half-sister they didn't know they had. She has been taken by a drug lord who wants some of their father's land for his drug operation. Wyatt puts out a call to his brothers to come home and help. First to arrive is Virgil. He's not happy to be there, remembering the conflicts between him and his father, and plans to leave again as soon as Brittany is home safe. Then he meets up with Tracy and his feelings for his old friend grow more intense. He tends to be like his nickname "Bull" and plows right into the search. He is also suspicious of the apparent changes in attitude his father has gone through. Next to arrive is Morgan. He has spent most of the last several years as a special forces soldier. He is very good at controlling his emotions and locking them down until he is reunited with Dakota, the girl he used to love. She and her son are living on his father's ranch and he finds that he has never forgotten the way he felt about her. He puts his training and contacts to work in helping to locate his sister. His skills are needed when an assassin comes looking for the witness they are protecting at the ranch. The last story is Wyatt's. He stayed around and is working as the sheriff of the town and is on a task force with Elena. They are attracted to each other but also tend to butt heads a lot. At this point the drug lord is after her because she killed his brother. She also has the contacts needed to find Brittany and finds herself in the position of being able to set Brittany free. The final confrontation brings the story to a very satisfying end.