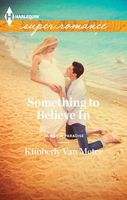 Series: A Family in Paradise (Book 3)
It's time to get her life back
Lilah Bell isn't asking for much-just a normal life. A future that's different from her shadowed, traumatic past. Maybe even a chance to start over. Instead, all she gets is the suffocating attention of her overprotective sisters, who seem to be waiting for her to break again. They don't get that helping save her family's beautiful Virgin Islands resort is definitely a challenge she can handle. But what she can't handle is a serious relationship with carefree visitor Justin Cales. After all, wanting a man who isn't planning to stick around isn't smart.
Problem is, falling for Justin is too easy. And now life is more complicated than ever. When the truth unravels, they'll either be brought together in unexpected ways...or torn apart for good.
Very good, very emotional story. Lilah is still trying to get herself back together after her breakdown last summer. She feels like she is doing pretty well, but her sisters just won't stop watching her. Justin is on the island for a last hurrah before being forced to become a productive adult. He has been an irresponsible playboy and his father has had enough. Justin isn't happy about it, but decides to live it up while he can. He is floored by Lilah when he sees her and wants her. They have an immediate attraction that they act on, but Lilah has no intention of getting involved with him. She doesn't need that kind of stress and he isn't staying long anyway. But he makes her feel good and she finds herself falling for him anyway. Lilah's biggest fear is that she will fail at something she does and that it will send her back into the depression that nearly killed her. She also has some serious self esteem issues, especially when it comes to her art. Justin can't stay away from Lilah. There is something about her that makes him want to be better than he has been. When his reputation catches up with him she pulls away and he leaves the island, going home to take up the political life his father wants him to have. Justin finds that he actually likes what he's doing and begins to repair his relationship with his father and live up to his potential. But he also can't forget Lilah and when he gets a break, goes back to see her. Lilah is hiding a couple secrets that really throw him for a loop, but eventually bring out the best in him. I loved the way that he stood up to his father and refused to walk away from Lilah. I also really liked Justin's mom. She seemed pretty weak at the beginning of the book, but her true strength showed up at the end when she helped Justin and Lilah.