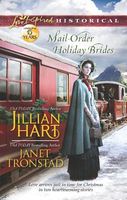 Series: Angel Falls MT
Home for Christmas by Jillian Hart
Christina Eberlee is desperate for the safe haven promised to her by the Montana man whose bridal ad she answered. Yet she can't forget the handsome marshal who helps her on the journey. Maybe venturing from her planned path could lead Christina to the home she was truly meant to find.
Good story. Christina is on her way to Angel Falls to meet the man she is supposed to marry. She is robbed on the way and meets Elijah, the local marshal. He is a kind man who is immediately taken with her, but knows she is promised to another man. They also rescue a young homeless boy. When Christina meets Tom she is worried because he doesn't seem to be the nicest of men and certainly doesn't compare to Elijah. I enjoyed seeing the way that Elijah looked out for Christina and the young boy Toby. It's always nice when the nice guy finishes first.
Series: Dry Creek
Snowflakes for Dry Creek by Janet Tronstad
"Maybe you could marry her." Gabe Stone's niece and nephew long for a mother just like the mail-order bride Gabe's brother sent for and then abandoned. Yet in making the children's Christmas dreams come true, Gabe and Annabelle may discover the most precious gift of the holidays is love.
I enjoyed my visit to historical Dry Creek and meeting some of the ancestors of the characters I am familiar with. Annabelle had come to Dry Creek to marry Adam and was disturbed to find out he wasn't there when she arrived. Instead she was met by Adam's brother Gabe, a big man who initially made her nervous. She soon saw his kindness to his niece and nephew and to herself. Gabe was drawn to Annabelle's inner beauty and kindness to his niece and nephew. He also discovered that he would like nothing better than to claim Annabelle for his own.