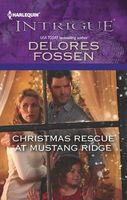 Series: Mustang Ridge (Book 1)
A TEXAS SHERIFF IN NEED OF A CHRISTMAS MIRACLE
Sheriff Jake McCall is about to break the law. To find a bone marrow donor for his ailing baby girl, he'll hack into WITSEC to track down Maggie Gallagher-the only person who could be a genetic match. Yet by doing so, he is jeopardizing not only his badge, but Maggie's life, as well. Expecting to have to force Maggie against her will, Jake is unprepared for her willingness to help-and for the desire and hunger she arouses in him. Still, those forbidden feelings could make Jake reckless, and losing focus now isn't an option. With time running out and a killer on their heels, Jake has to keep Maggie alive-and give his daughter a Christmas miracle.
Good book. I really liked both Jake and Maggie. Jake was willing to do anything to save his daughter, even track down Maggie who he held responsible for his wife's death. He didn't expect her to be so willing to help, and he sure didn't expect to be attracted to her again. When they were attacked almost immediately Jake knew he had to keep her safe. I liked the way that Jake put his family first and was willing to do whatever it took. He also knew that getting involved with Maggie was a bad idea, but he wasn't able to resist her. I liked the way that he began to see that his wife's death wasn't Maggie's fault and that they were eventually able to move on. Maggie was fantastic. She had done what she felt was needed to keep everyone safe before she disappeared. When Jake came to get her she wanted to do what was needed and disappear again to keep the family safe. I liked the way that she was determined to do whatever was needed to save her niece. Maggie also had to cope with her feelings for Jake. She didn't think there was any way that they would be able to be together. The showdown at the hospital was very intense and I couldn't read fast enough to find out how it was going to turn out. I also liked the brief appearance of Kade Ryland from the Lawmen of Silver Creek Ranch series. I'm looking forward to the next book.