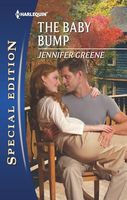 Series: MacKinnon (Book 2)
SHE WASN'T LOOKING FOR A HERO...
Ginger Gautier does "not" need saving, thank you very much. Okay, she's alone and pregnant. And, yes, she's unemployed and less than trusting after her breakup with a big-city doctor, but that doesn't mean she needs to be saved by a man. Especially not by "another" doctor

BUT HE FOUND HER ANYWAY
Ike MacKinnon was enjoying his peaceful, easygoing small-town life-until Ginger changed everything. Tired of Southern belles, the sexy doctor realized that the feisty redhead is the only woman who ever tied him up in knots. Trouble is, she's determined to stand on her own two feet, no matter what the consequences. She won't listen to anything. Not even her own heart.

But Ike's heart is telling "him" that he and this fiery redhead "belong" together. And he's determined to make a house call that lasts forever!
Good book. I liked both Ike and Ginger. Ginger had come back to Sweet Valley to take care of her grandfather and get her life back together. She is determined to stand on her own two feet and not depend on anyone for help - especially Ike. Unfortunately he always seems to catch her when she is not at her best. Ginger is really worried about her grandfather whose grasp of reality seems to be slipping. The family tea farm is in trouble and she is dealing with an unplanned pregnancy. I really enjoyed her bursts of temper. She wasn't mean or nasty she just tended to let her opinions be known forcefully. She did her best to resist her attraction to Ike. She didn't want another man in her life but she wasn't able to resist him. I liked the way she was finally able to explain her need to him and how he stepped up to help her with that. Ike was fantastic. He was such a laid back guy that nothing seemed to upset him. He coped with all the emergency medical things very calmly and with a great attitude. He did feel a little overwhelmed by the attention of all the single women in town but tried to maintain his cool. He was stunned by the vibrancy of Ginger. Her attitude was a breath of fresh air to him and he soon discovered that he wanted Ginger in his life permanently. His problem was getting her to see it too. I loved all the things he did for her and all the obvious care he had for her. I also loved the way he enjoyed her bouts of temper so much. I really loved the way he took her away at the end.