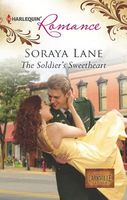 Series: Larkville Legacy (Book 7)
Larkville hero comes home!
Returning Special Forces soldier Nate Calhoun is struggling to adjust to small-town life. It's a relief to get back to the bunkhouse with only his memories and a bottle of bourbon for company.
Only Sarah Anderson can see straight through Nate's surly exterior to his pain. As childhood sweethearts they were inseparable—until he left, shattering her heart.
But hanging out like they used to—racing horses and shooting the breeze on the ranch—they begin to see that there really might be that spark still between them….
Very good book. Nate has come home, but is hiding out from his friends and family. He is trying to deal with the memories of what happened and not doing a very good job of it. He won't let anyone get close - until Sarah doesn't take no for an answer. Even though he broke her heart, she still knows him and can see how much he's hurting. I really liked the way that Sarah kept telling Nate that she was there for him. She was willing to risk her heart again to help him. She was also strong enough to stand up to him when he tried to chase her away. Her biggest problem was having the courage to share her secret with him and trust that he will stand by her. Nate is dealing with horrific memories and guilt that just won't go away. It gives him nightmares and he is angry all the time. At first he doesn't want to share anything with Sarah, since he also feels guilty about the way he left her and angry about her marriage to someone else. But he soon appreciates her persistence and is able to open up to her. He also admits to himself that his love for her had never gone away. I liked the way that he took the time to tell her his plans at the end and reinforce to her that he would be back. I hope that the last book gives updates on how these later couples are doing.