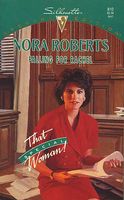 Series: Stanislaskis (Book 3)
Landlocked in Manhattan, rough-and-ready seaman Zackary Muldoon needed a street-smart, two-fisted attorney to save his kid brother's delinquent hide. What he got was a long-legged lady lawyer clad in sophisticated silks. Public defender Rachel Stanislaki made Zack's blood boil... and his loins ache.

No endless voyage had ever had him hungering for a female the way one day in court with this woman did. He'd have to give Rachel a wide berth . . . before she trimmed his sails forever... and anchored him with unquenchable desire.
This was the only Stanislaski book I hadn't read yet and I'm so glad I finally got a copy. Rachel is a public defender who got tagged with helping Nick. He had been caught robbing an electronics store, but she could see that he wasn't a hardened criminal. The judge assigned her to coguardian Nick along with his stepbrother Zack. There were sparks between the two from the beginning, but Rachel tried to keep things professional. Zack wasn't having any part of that - he was deeply attracted to her and made sure she knew it. Rachel could see that Zack really wanted to do what was best for Nick, and she could see that Nick's biggest problem was that he felt alone. Being the hardheaded guys that they were neither one was any good at expressing feeling to each other so Rachel had her work cut out for her. She also had to deal with her growing feelings for Zack and the crush that Nick had on her. I loved seeing how much Zack cared about Nick, but how lost he was about showing him. I liked the way that Rachel was able to show both guys how much the other cared. I also loved the way he was there for Rachel when she was attacked and how the tender side of him showed up through the tough guy attitude. I really enjoyed the closeness of the Stanislaski family and how they welcomed Zack and Nick into it. I loved the way that Rachel and her brother Alex had such a rivalry going on but their love for each other was apparent throughout. I really liked the judge and her discussion with Rachel at the bar, and then her ruling in the courtroom at the end. One of these days I will have to reread the other Stanislaski books.