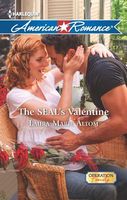 Series: Operation Family (Book 3)
Is He SEAL Enough For The Job?

The moment off-duty navy SEAL Tristan Bartoni meets feisty yet vulnerable Brynn Langtoine, he's a goner. He sure didn't have plans to be attracted to a recently widowed pregnant woman who is already mother to a troubled, grieving young son. Nope, the struggling SEAL came home to Ruin Bayou, Louisiana, to finally deal with his haunting past decisions-not to start a new relationship.

Brynn has enough problems without her hormones going crazy whenever Tristan is near. Her son, Cayden, constantly lashes out at her. Her baby will be fatherless. So...what does Tristan think he's doing, making her life even more topsy-turvy than it already is?

But when it comes to putting her heart on the line, who could be more trustworthy than a Navy SEAL?
Very good book with lots of emotion. Both Tristan and Brynn had some hard issues to deal with in their lives. Brynn had been widowed when her pro baseball player was gunned down because of his illegal activities. She's living in his childhood home awaiting the birth of her second child and trying to deal with her son's heartbreak. The last thing she wants is to get involved with another man. She can't help her attraction to him though she fights it all the way. She knows he isn't going to stay around. But he is very good with her son who is starting to return to normal under Tristan's friendship. Her biggest issue besides not wanting to depend on a man again was her fear of losing another loved one. Tristan came home to try to come to terms with his own past. His marriage ended because his wife couldn't handle his job. She has remarried and taken their son to California where he hardly ever gets to see the boy. He blames himself completely and it has caused him to lose focus on his missions. He finds himself drawn to Brynn and her son and starts helping out with things she needs and helping Cayden with baseball stuff. He makes it clear to her that he won't be there for long and is bad relationship material anyway. I really liked the way that Tristan kept helping Brynn and how good he was to Cayden. He didn't see the boy as just a replacement for his own son but as his own person. His biggest issue was the guilt he felt over the breakup of his marriage and how he blamed himself. I didn't like the way that he never held her responsible for part of the problems. I could see how much he wanted Brynn and the kids to be part of his life but that he was afraid of messing up again. I really enjoyed the way that their relationship grew over time and how they had to learn to compromise. I loved Tristan's solution to his dilemma.