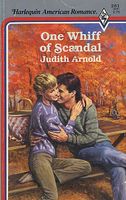 Can love survive scandal?

Sex, money and power--for weeks, Griffin had been investigating what promised to be the worst scandal ever to hit the sleepy Rhode Island communities. Then Granby Record reporter Jill Bergland stumbled onto the story. Started turning up at his stakeouts. And then had the audacity to challenge Griffin Parker, hard-nosed newshound for the Providence Journal, to a race to the byline.

Would Griffin let this Jenny-come-lately rob him of an exclusive? A possible Pulitzer? Jill was talented. Jill was beautiful. But if she preferred rivalry over romance, that's exactly what she was going to get.
Good book. I liked both Jill and Griff. Both were excellent reporters and wanted to be the one to break the story. I liked the way that Jill recognized that there was a potential story and went after it. She didn't have the experience that Griff had but she had good instincts and kept turning up where Griff didn't want her. There was a strong attraction between them but they also realized that being together while working on the same story was not a good idea. But try as they might staying away just didn't seem to be an option. Jill had some trouble trusting Griff and tended to jump to conclusions but she was also able to admit when she was wrong. Griff had been working on the story for awhile and didn't want Jill's clumsy attempts at stakeouts to ruin his chances. He also found himself wanting to spend time with her and she wasn't far from his mind at any time. He also really appreciated the fact that being a reporter herself she understood what his life was like and how work could interfere with a personal life. I loved the way they ended up working together and how their final stories turned out.