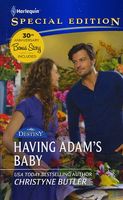 Series: Welcome to Destiny (Book 3)
There was absolutely nothing wrong with widowed florist Fay Coggen seeking a new lease on life. Just not in Adam Murphy's arms. But the night her late husband's best friend returned from his tour of duty overseas, Fay went from recrimination to tenderness in a heartbeat. When their mutual solace morphed into passion, it was destiny. As was the fact that she was now pregnant with Adam's child.

The walls Adam had built around his heart as a soldier came tumbling down when he went calling on Fay. Comforting her was one thing; but it hadn't stopped there. Now he was going to be a father. He'd crossed the line. So why did it feel so right?
Very good book. It was easy to see how hard things had been since Fay's husband's death and finding out what a mess he'd left behind. When she took out her pain on Adam, then gave in to the feelings she'd had for him a long time ago, she wasn't expecting to become pregnant. When Adam arrived home after his last tour of duty and saw her again, he knew he wanted her again. He had to overcome her issues, plus deal with the surprise of the baby and some PTSD. I loved seeing that they were able to communicate with each other. It was also great seeing Adam as him got used to the idea of being a father. I love the Murphy family and look forward to seeing more stories about them.