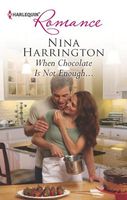 A shared passion for…chocolate!
One taste of Daisy Flynn's delicious confectionery and Max Treveleyn is hooked! This quirky chocolatier is just the person to showcase the cocoa from his plantation.
Daisy jumps on the idea—she's always dreamed of having her own chocolate shop, and with Max's offer, that dream can become a reality. But Daisy finds sexy single dad Max very distracting!
Keeping focused on work isn't easy. But Daisy has learned the hard way that she's safer indulging in chocolate than in relationships. She mustn't be tempted by something even sweeter….
Good book. I really liked both Max and Daisy. Max was a different sort of hero in that he is

basically a happy guy. What he needs is someone willing to work with his chocolate to show how good it is and help make it a success. As soon as he tasted Daisy's chocolates he knew she was the one he needed. Max is serious about his business, but he can also be pretty goofy. He finds himself doing some pretty dumb things just because he is so distracted by Daisy. He is also a terrific dad who really loves his little girl. He doesn't get to see much of her and that really bothers him. I also loved the way he was so supportive of Daisy and made sure she knew how much confidence he had in her. Daisy had a dream of opening her own chocolate shop and winning the contest would go a long way toward achieving that goal. But she isn't quite sure what to make of Max. He isn't very good at communicating his plans to her which results in a couple very funny scenes. She is also attracted to him but was badly burned in a previous relationship and doesn't want to risk it again. She finds that the more time she spends with Max the more she actually likes him. I loved the way that she finally broke out of her shell and went after what she really wanted. I loved all the scenes with the chocolate from the first one with the body parts to the end with the results of the contest.