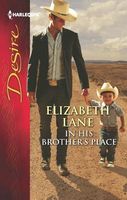 "I want the boy."
For three years Angie Montoya hid her son from her late fiancé's family…until his brother tracked them down. Now Jordan Cooper demands she move to his Santa Fe ranch—the boy's birthright. But how can Angie live with the man who called her a gold digger…the man whose one kiss she's never forgotten?
Racked by guilt since his twin's death, Jordan seeks redemption by raising his nephew. But Angie resurrects a hunger in him that only she can satisfy. Jordan knows he can have her on one condition—that she never learns the truth about him.
Very good book. I liked both Angie and Jordan. Angie had been devastated by the death of Justin and the attitude of his family. When she discovered she was pregnant she decided to keep it to herself. When Jordan found them she had to decide whether to take him up on his offer of a home for them. I loved her independence and how she was doing her best to give Lucas everything he needed. She carried some guilty feelings over Justin's death and felt that letting Lucas get to know his father's family was the right thing to do. But she was also attracted to Jordan and didn't see how a relationship had any chance of working. I liked the way that she stood up to Jordan's mother. She did have a bit of an inferiority complex which caused her to misinterpret some of the things Jordan said or did. Jordan initially came across as pretty cold. I liked the way that he quickly came to love Lucas and was so good with him. He did have a lot to learn about how to work with Angie as Lucas's mother, but he was a pretty quick learner. The biggest problem he had were his own guilty feelings over Justin's death and how he was keeping it secret from Angie. There were a lot of things they had to face and deal with but were finally able to do it together.