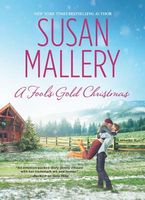 Series: Fool's Gold (Book 10)
The unrelenting cheer in Fool's Gold, California, is bringing out the humbug in dancer Evie Stryker. She learned early on that Christmas miracles don't happen, at least not for her. And this year seems like no exception. An injury has forced her to return to the family fold, no matter that they're estranged. She won't add to the awkward scenario by being seduced by the bad-boy charms of her brother's best friend, the last man she should ever want to date. Even when she's recruited to stage Fool's Gold's winter festival, she vows to do as promised, then move forward with her life anywhere but here.

Jaded lawyer Dante Jefferson is getting used to the backwater town he now reluctantly calls home, but the pounding of little dancers' feet above his temporary office is more than any man should have to take! When he confronts their gorgeous teacher, he's unprepared for the attraction that sears him down to the soul. Evie is his best friend's sister -- off-limits unless he's willing to risk his heart. Dante has always believed that love is the most dangerous force in the universe, but that was before he had to reckon with the magic of a certain small town, where miracles do seem to happen...
Loved the book. Loved Evie and Dante. I have been waiting for their stories since I first met them in Summer Days, but never suspected at that point it would be their story. Evie was brought to Fool's Gold by her family after a devastating injury. She doesn't want to be there as she has always felt like an outsider in her own family. She was emotionally neglected by them, especially her mother, left home at seventeen and never looked back.
Evie finds herself spending more time with her mother and has to decide if she wants to let go of her anger.

Now she's marking time as a dance teacher until she can leave again. Then she gets the winter dance show dumped in her lap and is feeling overwhelmed. She is also not much in the holiday spirit and finds a like-minded soul in Dante, her brother's best friend and business partner. They form an alliance to get them through the holidays and discover that besides their developing friendship there is a growing attraction. Dante doesn't do relationships and makes it clear that if they start something there will be no commitment. Dante has his own issues in his past that have contributed to his attitude and acts the playboy to protect his heart and feelings. I liked the way that he helped Evie see that it was possible for her to have a new relationship with her family. He was also wonderful at being there whenever she needed any kind of support. You can see that he is falling for her, but that he doesn't want to admit it. There are a lot of great scenes where the nice guy in him shows through. There is also a wonderfully hilarious scene dealing with her brothers letting themselves into her house and not expecting Dante to be there. I loved the ending and how he finally comes through.
One of the best things about the Fool's Gold books is the sense of community and family. Being from the city, both Dante and Evie have no experience with the way that the town provides support. When Evie gets the winter dance program dumped on her she has no idea where to even start to make it happen. When she goes to Charlie for help, she can't believe that there are people who will just show up and do what is needed. I loved her surprise at how many people came to help with the sets. I also enjoyed the way that Dante made sure that her brothers were part of the group. I loved the way that people kept getting Evie involved in different activities and how much she ended up enjoying it. I loved the ladies' party when they all showed up to make Evie feel better. I like seeing the characters from previous books. Most make brief appearances, like running into a friend at the grocery store. Just enough to see what they're up to without getting bombarded with too much information. I'm looking forward to next year's books s lot.