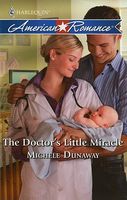 Chandy McDaniel was seventeen and pregnant when her world crashed around her. Fifteen years later, she's not -- repeat, not -- stupid enough to let Justin McCall back into her life. Especially after he and his family moved away from their Iowa hometown and he never sent so much as a postcard.

There's one small problem. She still loves him. And that's not the only secret she's keeping.

Leaving Chandy was the hardest thing Justin ever had to do. Seeing her again -- a beautiful, grown-up doctor with a soft spot for kids -- makes him realize how much he still cares. And she already seems to be head over heels for his son.

Is it too late to make things right between them? And maybe, together, create the miracle they've both been waiting for...
Good book. I liked both Chandy and Justin. She was stunned to see him and his son in her emergency room. She had no intention of opening herself up to the potential heartbreak of getting involved with him again. But Justin has never forgotten her either and wants a second chance with her. I really enjoyed seeing them get to know each other all over again. They still had issues that they needed to overcome. Justin had problems dealing with their financial differences and it sometimes made him act like a jerk. He had always felt guilty about the way he had treated her back when they were teens and dealing with the new information he had made him feel even worse. I did like the way he was such a good father to Ben. I also loved the way that he tried to give Chandry what she needed but was willing to take a chance there at the end. Chandry was still dealing with the pain of their teenage breakup and the resulting problems. Her love for Justin had never gone away and she was enjoying getting to know him again. I liked the way she was so good with his son. Her biggest problem was confronting Justin with the rest of the story of their past. She was a master of avoidance and it nearly destroyed their relationship a second time. I really liked the conclusion to the story.