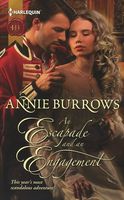 A SEASON OF SCANDAL

Richard, Lord Ledbury, has had his fair share of adventure on warring battlefields, but even this seasoned soldier isn't prepared for the outrageous escapades going on in London's ballrooms!

Lady Jayne Chilcott is under orders to find a husband, and Lord Ledbury has caught her eye. But nothing is simple when courting under the glittering spotlight of the ton.

Richard has always risen to any challenge, but Lady Jayne might just be the first to get the better of him….

Let the games begin!
Pretty good book. For the most part I liked Richard and Jayne. Richard has inherited the title after his older brother's death. He has spent most of his adult life in the military and is unprepared for the battlefield of the ton's ballrooms. He needs to find a wife, but he feels hunted. As the middle son he was also pretty much ignored by his parents, creating a feeling of not being good enough for them, and feeling unlovable by anyone else. He is drawn to Jayne, but initially feels that she is a scandal waiting to happen. The more time he spends with her the more he appreciates her for what she is. When he finally realizes he loves her he has to find a way to convince her. Jayne was a little harder to like at first. She seemed pretty selfish and flighty with her determination to not do as her grandfather wished and by carrying on with the penniless soldier. She is angry at Richard when he first interferes, but soon sees that he was right. As I saw more of her I realized she had a good heart, she just made poor choices in her activities. She also had issues of self-esteem that needed to be overcome. By the time the story moved to his home, Jayne seemed to be maturing somewhat and making better choices. She finally realized that she was in love with him, but was under the impression that he loved someone else. The culmination was something of a comedy of errors, but I liked the way it ended.