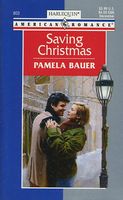 Only thirty days till Christmas...

Sara Richards had one month to save the sleepy hamlet of Christmas, Minnesota, from extinction and one month to save herself from Joe Gibson. The man who'd fueled her schoolgirl fantasies was home for the holidays, and everyone in town knew there was unfinished business between her and Joe.

Joe was more desirable than ever. Just the sight of him made Sara hot all over - even in the midst of a Minnesota winter. Then the townsfolk - all 272 of them - decided to play matchmaker, and Sara wondered how her heart was going to make it till Christmas...
Pretty good book. Sara is back in Christmas after her divorce and has gotten roped into coming up with a way for the town to retain its status. Being pretty creative and ever optimistic, she comes up with an idea to turn the town into a Victorian Christmas Village on Christmas Eve and draw in tourists. One of the people involved is Joe's mother who wants Joe and his daughter to come to Christmas for the holidays. Sara had a crush on Joe in high school, but things didn't work out for them. Now they can't be in the same room without arguing, but there's also still a strong attraction between them. Joe hated living in the small town where he felt like no one liked him and he was being constantly watched. When he left he swore he would never be back. I loved Sara and her optimism and how hard she was working to help the town. She had never really understood what Joe's problem with the town was, but she had never forgotten him. She is fighting the attraction because he still wants nothing more than to get his mother to return to California with him for the holidays. I loved her patience with the people around her and how good she was at listening to them. She was fantastic with Joe's daughter and tried very hard to get Joe to see the good in the town. Joe was harder to like at the beginning. His dislike of the town when he was a teen had given him terrible tunnel vision where it was concerned. Every time he saw Sara he fought the attraction and hammered at her about what a waste of time her attempts were, that being absorbed by another town would be best, that he just wanted to convince his mother and leave. He really wasn't willing to pay attention to what anyone else wanted. It took a while but Sara was able to make a little headway in changing his attitude, but it seemed like it wouldn't be enough. I really enjoyed his daughter's enthusiasm and the way she was able to get Joe to do some things. I also loved the Twelve Days of Christmas theme at the end and how everything came together.