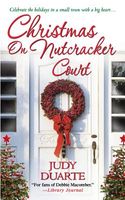 Series: Fairbrook (Book 5)
This Christmas, come home to Fairbrook, the setting for Judy Duarte's uplifting, heartwarming novels, where friendship, faith -- and some extra-special providence -- will make it a holiday to remember...

Fairbrook is a town tailor-made for Christmas, with beautiful old houses dotting quaintly named streets like Sugar Plum Lane and Nutcracker Court. But not everyone is eager for the holidays to arrive. Cash-strapped single mom Carly Westbrook worries about providing a merry Christmas for her boys. It doesn't help that they've been having run-ins with neighbor Max Tolliver, an aspiring novelist stricken with writer's block. Then there's Grant Barrows, a formerly wealthy businessman whose heart seems to have shrunk along with his bank balance.

Some folks are still determined to make the season sparkle. Like The Diamond Lils, a ladies group who meet weekly to play poker and socialize. This year, they're looking to do some good deeds -- and wealthy widow Lynette thinks that a little matchmaking between Grant and Carly would be a perfect place to start.

Yet Christmas is a season for surprises. And sometimes, the gifts we never expected turn out to be the most precious of all...
Good book. I liked the main characters of Carly and Max. Carly is a single mom who is doing her best to provide for her two sons, but she just can't seem to catch a break. When she has another confrontation with Max over her boys and his dog she's not sure what to do. I love the way that she stands up to Max when she thinks her boys are in danger. I also like the way that she's able to make amends when she needs to. Max has taken a leave of absence from his job in order to work on his book. It isn't going very well right now and he hasn't been able to figure out why. I like the way that he works out a trade with Carly where she helps him by reading the book, and he helps her with her sons. This gives them a chance to get to know each other and see where their friendship might go. Both of them also are struggling to find their Christmas spirit. There is also a pretty good cast of secondary characters, all of whom are having their own holiday challenges. Carlos and Rosa are over committed on the volunteering front, not taking the time to enjoy the season. Susan is a widow who would like to marry again, but doesn't seem to have the social skills to make the best of herself. Lynette grew up poor and with low self esteem, but married well. Now she's a widow too, but still thinks poorly of herself and worries about material things. They are joined by Maggie, a woman who is house-sitting for a friend. Maggie sees the best in people and is able to make people see what the holiday season sh

ould

be about.