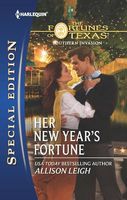 Series: Fortunes of Texas: Southern Invasion (Book 1)
AT THE STROKE OF MIDNIGHT
It's New Year's Eve, and there are five Fortunes sitting at the bar-five single, way-too-handsome Fortunes dressed in wedding attire. It's enough to make any red-blooded single girl start thinking wistful thoughts-especially about Wyatt Fortune. Still, Sarah-Jane Early doesn't bother to fantasize. There's no way that wealthy, charismatic hunk would date a plain Jane like her....
ACROSS A CROWDED ROOM
They say New Year's is a time for new beginnings, and Wyatt Fortune is sorely in need of one. After some startling family news, he has vowed to sever all ties and start fresh in Red Rock. The beautiful young woman at the bar-Savannah, she tells him-is nothing more than a momentary diversion. But could this be a moment that leads to a lifetime?
Very good book. Loved both Sarah-Jane and Wyatt. Sarah-Jane saw all those good looking guys sitting at the bar, but knew they were way out of her league - especially Wyatt. He has also been watching her. When he sees her again the next day he asks her out - she says yes, but also gives him a fake name to give herself the courage to step outside her comfort zone. Thanks to her mother and some other things, Sarah-Jane has some serious self esteem issues. She sees herself as fat, plain and boring. After their date she confesses her deception and is stunned when Wyatt still wants to see her. As good as she always feels when she is with him, she still has trouble seeing herself the way he does. Wyatt first saw her as simply a distraction from his problems, but she soon became much more. I really liked the way that he saw her as she really was and worked so hard to convince her of it. I loved the way that he started out so slowly, with lunches in the park rather than trying to overwhelm her with fancy dates. His tunnel vision about his father was a problem between them. He enjoys being with her more and more but the idea of loving her scares him. I liked the ending. I can see that the mystery of Wyatt's dad and his intentions will be a large part of the series.