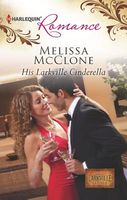 Series: Larkville Legacy (Book 5)
The small-town girl with big dreams has finally reached Hollywood! For years, costume designer Megan Calhoun has longed to be seen for who she is, not who she isn't. But under the gaze of A-list heartthrob Adam Noble, this Cinderella begins to step out of the shadows….

Adam hides from his painful past behind every role he plays. But something in Megan is threatening to smash apart this carefully constructed facade. Will he finally take his biggest risk…throw away the script and open his heart?
Very good book. For most of her life, Megan felt out of place in her own family with her dreams of being a Hollywood costume designer. Now that she has graduated from college she has gotten a job as an intern in Hollywood. She is determined to do well but feels somewhat overwhelmed. During her first week she meets Adam who she initially thinks is a pretty obnoxious guy. I really liked her focus on folowing her dreams. I was pretty disgusted with her family, that not one of them could be bothered to show up for her graduation. I don't blame her for wanting to get away from them. I liked the way that she stayed true to herself and didn't play the stupid Hollywood games. She did a good job trying to follow her boss's rules and just being a friend with Adam in spite of the strong attraction between them. I also liked the way that her friends and her boss came through for her when Adam was being a jerk. I mostly liked Adam, but there were a couple times when Megan should have really made him work to get back in her good graces. He was basically a nice guy, though very good at playing the Hollywood game. He used his image to help him keep his emotions safe. There was something about Megan that he really liked and he found himself wanting to help her learn the ropes. He also liked the fact that she didn't suck up to him but treated him as a normal guy. Unfortunately he made two real boneheaded mistakes in the way he treated her, mostly because he was afraid of the way she made him feel. After the second time she called him on it and pretty much told him to go away until he grew up. It had a good ending. I would really like to see what happens when she brings him back to Larkville with her, and what everyone's reactions are after the way she was treated.