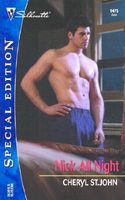 Boy-next-door Nick Sinclair had grown up into a hunk extraordinaire -- that was Ryanne Whitaker's first shock on reencountering her sexy, single-dad neighbor. The second was that she was facing this broad-shouldered Mr. Gorgeous across the barrel of a gun!

Turned out Nick was now sheriff of their Iowa hometown and had mistaken Ryanne for an intruder...but meeting him again like that had certainly unsettled her settling in....

Ryanne had planned her stay in town to be temporary. But that was before Nick kissed her! Was it time for Ryanne to trade in the bright lights of the big city for the warm glow of hearth and home?
Good book. Ryanne was back in Elmwood to try to put her life back together. Her ex-husband had run off with all their money leaving her in debt to the IRS. Her pride wouldn't allow her to let anyone know how much of a failure she felt. Meeting Nick again made her realize how much she had missed having a good friend and remembering what good friends they had been when they were kids. But then there was an attraction developing that she didn't know what to do about. She had no intention of staying, but she didn't want to leave either. It was really hard to watch Ryanne struggle so hard to try to fix everything on her own when asking for help would not have been a weakness. I really liked the way that her attitude toward the town started to change as she realized the benefits of living in a small town. I also liked the way that she cared for Nick's son so quickly. Nick was a pretty terrific hero. The way he cared for everyone was obvious in everything he did. He had some dreams of his own but had put everything aside as a way to atone for what he saw as a terrible decision on his part. He spent so much time caring for others that he never did anything for himself. I really liked the way that he was there for Ryanne and how his feelings just got stronger. I also liked the way that he saw the truth of what she told him and was able to make the changes he needed to make. I loved the way that they were able to share their dreams for the future together.