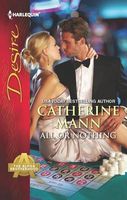 Series: Alpha Brotherhood (Book 2)
"I can't sleep with a man who keeps secrets."
Despite the warnings that he would break her heart, Jayne Hughes fell for the bad boy. And Conrad Hughes, casino magnate, did just that with his absences and lies. Now she's ready to move on, but her husband has other plans….
Conrad's undercover work for Interpol destroyed his marriage. When Jayne comes to Monte Carlo seeking a divorce, he launches an all-out assault. Seducing his wife back into his bed is child's play; earning her trust is another matter. Yet Conrad knows the odds favor the house. And he has no intentions of losing.
Very good book. Jayne and Conrad have been married for seven years but separated for three. Jayne couldn't handle the fact that Conrad would disappear for weeks at a time without telling her anything and without staying in touch. It reminded her too much of her father who had been unfaithful and had a second family that he had kept secret. She was sure Conrad wasn't cheating, but the secrets were tearing her up. So she left him and tried to rebuild her life. Now she's back to get him to sign divorce papers. She is still attracted to him and still in love with him, but afraid of getting her heart broken again. Conrad knows he's been a terrible husband, but he doesn't want to let her go. So he is determined to win her back. Conrad has his own issues that have affected him. His father was a white collar crook and Conrad used his own intelligence to try to get even. It took him down a wrong road where he ended up at reform school where he met Troy, Malcolm and others who now do occasional work for Interpol. Now he feels a need to do everything he can to make up for the wrong he did. When something happens that may have put Jayne in danger Conrad is finally forced to open up about his work. Communication has never been his strong point and Jayne often feels like she's pulling teeth to get him to tell her anything. Once again his reluctance to open up nearly destroyed everything but with some advice from a friend he was finally able to win the day.