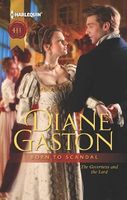 Lord Brentmore -- half Irish peasant, half English aristocrat -- grew up under a cloud of scandal. Even money and a title aren't enough to stay the wagging tongues of the Ton. But he's vowed that his children will never experience the same stigma.

After the death of their infamous mother they need a reputable governess. Anna Hill is too passionate, too alluring, but she fills Brentmore Hall with light and laughter again -- and its master with feelings he'd forgotten….

But a lord marrying a governess would be the biggest scandal of all!
Good book. I liked both Brent and Anna. Brent has spent most of his life fighting the shame of his birth and then the scandal of his late wife's behavior. He is determined to be the best gentleman he can be so that his children do not have to suffer the way he has. When their elderly governess dieshe must hire a new one. Enter Anna Hill. She has been raised as a companion to her friend Charlotte but has been let go. She applies to be the children's governess, but Brent is initially reluctant because she is so young and attractive. He decides to give her a chance and sends her off to Brentwood Hall where she immediately bonds with the children. She is dismayed by the dismal life they are leading there and sends for Brent. He has had no idea what things were like, but doesn't know how to relate to the children. Over the next few weeks Anna helps him and they all grow closer. Brent and Anna know that they are falling for each other but that it is impossible. Anna is very practical and pretty much suffers in silence. Brent is pushed into looking for a "respectable" wife but is miserable because all he wants is Anna. When things come to a head Brent must decide which is more important - love or respectability. All the characters were very well done. I could feel Anna's pain over her loneliness and her love. Brent's desire that his children not suffer like he did was obvious, but his feelings for Anna were heartbreaking. The children felt very real with problems and feelings appropriate for their ages. The rest of the supporting cast also felt realistic.