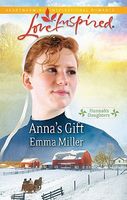 Series: Hannah's Daughters (Book 3)
Surprise Proposal in Amish Country
No one in Seven Poplars, Delaware, expects Anna Yoder ever to marry. Among her six pretty, petite sisters, big and plain Anna feels like a plow horse. But then Samuel Mast, the handsome widowed father she has secretly loved for years, asks if he can court her. Surely Anna has misheard -- Samuel has his pick of lovely brides! She's convinced he seeks a wife only as a mother for his five children. Or could a man like Samuel actually have a very romantic reason for wanting Anna by his side forever?
Good book. I liked both Anna and Samuel. Anna is stunned when Samuel asks to court her. He could have his pick of any of the girls in the community, but he's asking her. She has had a dream of being married for love but doesn't expect it. She is a big girl who has been teased about it for years. She doesn't see how he could truly be interested in her as a person. She couldn't see that her inner beauty was so much more important to him. I loved how good she was with her sister and with Samuel's kids. She has an amazing amount of patience and deals well with the children and with her grouchy grandmother. I didn't like the way she was treated by some of the other people but loved the way some others tried to make her see herself the way they did. Samuel was terrific. I really liked the way that he had waited for Anna. He also saw the whole person not just her outward appearance. Even though there was a pretty big age difference I liked the way that he was willing to do things that would make her happy. He also worried a little about their different ways of looking at things but eventually saw how much difference it would make to his family. I really liked the way that he knew he loved her and wanted her for his wife.