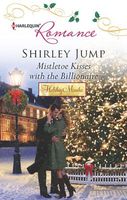 Series: Holiday Miracles (Book 3)
Free-spirited journalist Grace McKinnon is happy jet-setting from one adventure to the next. That is, until work beckons her back home for Christmas, to Beckett's Run -- the cozy winter wonderland that contains everything she ran away from years ago, including childhood sweetheart J. C. Carson….

Blazing into town in her red convertible, Grace nearly runs J.C. off the road! And working together to organize the Christmas festival, sparks fly even as their past looms between them.

But with the first snowflakes falling, will Grace be able to resist J.C. under the mistletoe…despite all their differences?
Good book. Grace is the youngest of the three sisters and a real wanderer. But her writing hasn't been going well lately and her boss has told her to take a break and get herself together. So she reluctantly goes home to Beckett's Run where she immediately runs into JC. She wants to do a story on the Christmas festival and talks her way into helping JC run it. There is still an attraction between them, but she barely recognizes the man he has become. As they work together they find plenty to talk about but their past keeps pushing them apart. She also sees that JC has done the exact thing he said he would never do - become a suit wearing workaholic. She does her best to help him see that it is possible to have fun again. Grace has her own issues to deal with. As the youngest she was most affected by her parents' rocky relationship. This has caused her to avoid relationships and has even caused her to pull away from her sisters.
Grace doesn't like conflict and has a habit of running when things start to get rough. JC and Grace were friends and sweethearts when they were younger, but some things happened that separated them, each thinking that the other had abandoned them. Now she's back and JC realizes he had never stopped caring. He also doesn't trust that she won't just take off again. The more time he spends with Grace the more he realizes what has been missing in his life. The problem is that he feels responsible for so much and doesn't know if there is any way that he and Grace can find a way to be together. Both of them will have to figure out a way to take the risks that can win them what they want. I enjoyed the ending and seeing all three sisters together.