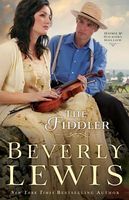 Series: Home to Hickory Hollow (Book 1)
A wrong turn in a rainstorm leads Englisher Amelia Devries to Michael Hostetler - and the young Amishman's charming Old Order community of Hickory Hollow. Despite their very different backgrounds, Amelia and Michael both feel hemmed in by the expectations of others and struggle with how to find room for their own hopes. And what first seems to be a chance encounter might just change their lives forever.
Very good book. Amelia is rescued from the rainstorm and a flat tire by Michael. He is staying in a cabin, basically hiding out from his Amish life, trying to decide if he wants to leave it. Amelia is a concert violinist, also trying to decide her future. Amelia and Michael connect right away, each recognizing a fellow lost soul. He invites her to come to Hickory Hollow for a few days to relax. I loved the way that Amelia and Michael are able to relate to each other despite their very different backgrounds. Each is able to listen to the other without judging, thereby giving them a chance to explore options. Michael really wants to leave the Amish community, but is afraid of disappointing his family and friends. He is caught between two worlds - his Amish life, helping his father, and his English life, working as an architect and enjoying all the outside world has to offer. Amelia is tired of touring but doesn't know how to tell her father and the others who expect a great future from her. When she visits Hickory Hollow she is drawn to the simpler life she experiences there. I really liked the way she was able to help Michael with his niece, and the way she became such good friends with Joanna. When it is time for her to leave, she and Michael stay in touch for a long while, learning more about each other and expanding their friendship. They lose touch with each other for awhile due to a misunderstanding, but find their way together again after each has found their way to the lives they were meant to lead. I loved seeing the personal growth in both Michael and Amelia. Neither one came to their decisions easily, but the process was completely believable. I enjoyed seeing some characters from previous books. The conclusion to this story was beautifully done.