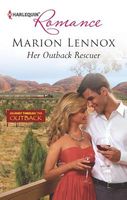 Series: Journey Through the Outback (Book 1)
ON A TRAIN THROUGH THE OUTBACK...

Hugo Thurston, big-shot billionaire and heir to the Thurston Empire, prefers to keep a low profile. But when traveling on the grand Ghan Railway, he finds himself sharing a dinner table with beautiful ex-ballerina Amy Cotton, who threatens to seriously derail his icy cool!

She may be alluring, but Hugo has no time for distractions. This trip is about making life-changing career decisions... not succumbing to Amy's charms. But when Amy turns up in his suite, dressed in pink satin pajamas and begging him for help, it might just be too late....
Very good book. I really liked both Amy and Hugo. Amy and her sister are on a cross-country train trip. Rachel is recovering from a devastating tragedy and Amy has given up her career as a ballerina to be with her. She has no intention of getting involved with Hugo, but has to appeal to him for help in the middle of the night. This also puts her under the influence of Hugo's grandmother who is a force to be reckoned with. She wants to be able to continue on their trip as planned but grandmother has other ideas. I liked her independence and strength of character. She isn't the type to cave in easily though Hugo has trouble seeing this at times. She is also full of surprises - there's a great one during their rock hunting trip that had me laughing out loud. I loved the way she handled her notoriety at the end - very well done. I liked Hugo a lot also. The first thing I noticed was how much he cared for his grandmother - to the point of doing things he didn't really want to do but did for her. He is very much of a loner who has kept himself away from emotional involvement. He has spent nearly twenty years as an army commando, but thanks to his grandfather's death he has to decide whether to give it up to run the company. He doesn't really want to but he sees what will need to be done. His exposure to Amy really rattles him. There is so much about her that appeals to him but he has seen what his world does to people who aren't used to it and doesn't want that to happen to Amy. The more time he spends with her the more he wants to keep her in his life. It was hard to watch him struggle with his feelings. I loved his grandmother and how hard she tried to make him see what was needed. The ending was beautiful - Hugo really came through in the romance department. I also enjoyed the scenes around Uluru and learning more about it.