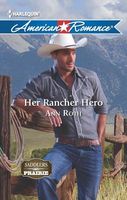 Series: Saddlers Prairie (Book 3)
For the troubled foster boys who call it home, Hope Ranch is a last chance. For Cody Naylor, the ranch's owner, it's an opportunity to repay a debt to the foster father who saved his life. And for Autumn Knowles, it's a way to stay out of jail after a minor scrape with the law. Sentenced to a temporary job as housekeeper at the ranch, she's determined to show everyone she can be responsible.

Gaining the boys' confidence is no easy matter. Learning to trust Cody is a whole other story. But with her job, her future and the future of the boys at stake, there's too much to lose by getting involved. Autumn's not about to get burned again…no matter how perfect the guy seems!
Very good book. I really liked both Cody and Autumn. Cody is determined to be as good a foster father as he can be, but sometimes feels at a loss when dealing with the four boys. It doesn't help that they've been without a housekeeper/cook and his cooking skills are pretty non-existent. When Autumn arrives to fill in, he isn't sure what to make of her. He's certainly attracted to her, but with four teenage boys in the house that can't go anywhere. He is impressed by the fact that even though she can't cook she is determined to learn and to do the best job she can while she's there. He is also surprised by how quickly she is able to relate to the boys, even though she makes some mistakes along the way. The more time he spends with her the more he likes her but isn't sure that she'd want to stay around. I liked the way that Cody was so willing to help her and the way he showed her that he had confidence in her abilities. Autumn had had one too many speeding tickets and was sent to the ranch to be the housekeeper. She is willing to do whatever is needed to do the job right. Her willingness to accept help goes a long way to helping her fit in on the ranch. She is very attracted to Cody but also very nervous about messing up on the job. Her first few days with the boys are pretty rough as she learns to deal with their trust issues and teenage-ness. Pretty soon they're doing well together as they learn that they have a lot in common with her. Because she has made some bad romantic decisions in the past she is wary of getting involved with Cody. She also has some real self esteem issues and thinks that he is way too good for her. I really liked the way that she is able to meet the emotional needs of the boys. There were some very emotional parts dealing with the boys that really made the book extra good.