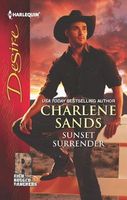 Series: Rich Rugged Ranchers (Book 1)
"You don't belong here, Sophia."
Sophia Montrose is no stranger to Sunset Ranch. Not after the scorching kiss Logan Slade once shared with the alluring Spanish beauty in high school. Now she's back—to claim a share of his family's Nevada spread. Logan wants to hate her. After all, she's a Montrose.
Sophia hasn't forgotten that stolen moment with Logan—even if it was part of a cruel bet. Fifteen years later, she's staring into the rugged cowboy's cold black eyes…and determined to stand her ground. But will she lose her footing in the quicksand of their unquenchable love-hate passion?
Very good book. Sophia was left part ownership in the Sunset Lodge by Logan's father, who had had an affair with Sophia's mom while she was manager of the lodge. Logan is angry because he blames the affair on Sophia's mom and thinks that Sophia is just like her. Sophia is happy to be back on the ranch where she had been very happy growing up. She is dismayed by Logan's coldness and attitude but is determined to make her time at the Lodge work. Another thing she didn't expect was the strong attraction between them. When they acted on that attraction and Logan started spending more time with her, Sophia hoped he was beginning to see how wrong he had been, especially when she realized she had fallen for him. Logan was furious that Sophia had inherited part of the Lodge. He held her mother responsible for the problems in his parents' marriage and felt that Sophia was just like her. He didn't like the renewed friendship between Sophia and his brother Luke and thought that Sophia was just trying to follow in her mom's footsteps. He used their attraction to fix her interest on him, planning to keep it to a physical relationship only. He didn't expect to start liking her, but he still wouldn't give up his distrust of her. He nearly blew it at the end, but finally came to his senses. There were some pretty intense emotional moments where I could really feel what Sophia was going through.