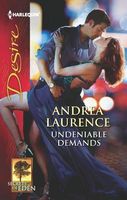 Series: Secrets of Eden (Book 1)
When Wade Mitchell finds himself face-to-face with Victoria Sullivan, he has to reconsider his usual tactics. Wade needs to buy something she owns, and he needs it now. Since he and Tori have enough heat to melt ice, it should be a done deal.
But melting Tori's resolve is a harder task. She's not giving in to the man who once fired her. Yet Wade has to keep trying, because if he doesn't, he risks exposing a secret that could destroy his family. When all proper negotiation fails, seduction may be his only option.
Good book. I liked both Wade and Tori. Wade is a self-made millionaire. He and his foster brothers were raised by the Edens and he would do anything for them. When he finds out that they sold a piece of land that holds a dangerous secret he is determined to get it back. He doesn't expect the new owner to be Tori, who he had fired from his company several years earlier. He also doesn't expect the heat of an instant attraction. He is surprised when she refuses to sell, even for an insane amount of money. After thinking about it he decides that getting to know her and trying to soften her up, possibly even seducing her may be his best option. I loved seeing some of the things they did together and how Wade began to enjoy being with her. I liked how his conscience began to bother him and he had to try to reconcile his need for the land and his need for Tori. I really liked the way that he went to her at the end. Tori was great. She had overcome her firing and started her own company as a green architect. She had bought this land to build a home of her own after living a gypsy-like childhood with her parents. She still felt the effects of her firing because she had done nothing wrong and caused her to be less trusting of men. Seeing Wade again brought that all back. It also brought back the attraction she had felt for him. I loved the way that she stood up to him even when he tried to intimidate her. I really loved the scene in the bar when she refused to be smirked at. I liked the way that she went ahead with going out with Wade even though she knew she might be setting herself up for heartbreak. Tori was devastated at the end when she thought Wade had betrayed her trust. I liked the way that they came together at the end. I'm looking forward to the rest of this series. There is a great sense of family and the other brothers are all so different from each other their stories should be great.