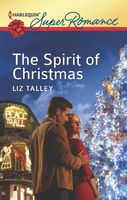 Brennan Henry doesn't have time for holly and jolly. He's been too busy boosting the bottom line for the family business. That is, until his eccentric grandfather hands over a lot of money to a stranger on the street. Some nonsense about her being the true spirit of Christmas. Yeah, right. All Brennan can see is he's now got a situation on his hands with one Mary Paige Gentry.

Then he meets Mary Paige. And no matter how deep he searches, it seems she's the real deal. Kind, compassionate and just enough sass to keep him very intrigued. The spark of attraction between them could land him on the naughty list! But his is still a dollars-and-cents world…unless she can prove there's more to the season -- more to life -- than money.
Good book. I loved the theme that there is more to life than making money - a kind of A Christmas Carol story. Brennan's grandfather had had a heart attack several months earlier and realized that his life sucked, so he decided to do something about it. While posing as a homeless man, he was helped by Mary Paige who he then asked to be the face of his "Spirit of Christmas" campaign. He used this campaign to get the people of the city to start being kinder to each other. Brennan was an all-business kind of guy who saw his grandfather's plan as a bunch of hooey, but decided to humor him. I liked Mary Paige a lot. She was a pretty down-to-earth person who was also very compassionate to those less fortunate. She also tended to see the good in people. She wasn't sure she wanted to do the promotion but was willing to try because of the good she thought she could do with the money she was offered. She wasn't happy at first at having to work with the cynical Brennan, but hoped that maybe she could open his eyes a little. She was worried about her attraction to him, but was pretty sure that he'd have no interest in her. The more time they spend together the more they like each other and things start to take off. Brennan is still something of a hard nut to crack and I love some of the things Mary Paige does that show him how she feels. Brennan doesn't like the Christmas season. His parents died at Christmas and he has worked very hard to protect his feelings ever since. He thinks his grandfather is growing senile but humors him anyway. He doesn't quite know what to think of Mary Paige, but she intrigues him because she is so different than anyone he has ever known. The more time he spends with her, the more he finds himself changing. There is a huge misunderstanding where he really blows it with her, but manages to see the light before it is too late (of course). I liked Brennan's grandfather a lot, and his romance was sweet.