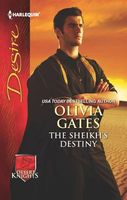 Series: Desert Knights (Book 3)
The marriage seduction

He has found his destiny. But to claim the throne of Azmahar, Rashid Aal Munsoori needs Laylah Aal Shalaan. Seducing her into marriage will defeat his rivals-and if she becomes pregnant with his heir, his hold on his homeland will be complete.

Laylah has always secretly loved Rashid. Her sexy sheikh might be scarred inside and out, but that only makes her love him more...until she discovers his true motives. She may never again trust her lover, but how can she walk away from the father of her unborn child-a baby destined to ally their two desert kingdoms forever?
Excellent book and conclusion to the Desert Knights trilogy. I really liked both Rashid and Laylah. In his appearances in the previous two books it was hard to decide if Rashid was a good guy or a bad guy. I was pretty sure he would turn out to be a good guy and that there would be quite a story behind his scar and his attitude. At the beginning of this book Rashid is trying to decide the best way to get Laylah to marry him so he can cement his claim to the throne. When he rescues her from a kidnapping attempt they are thrown together and their attraction is off the charts. Rashid had been expecting her to be as twisted as her mother and is astounded by her honesty and goodness. He is also stunned by her acceptance of him as he is. I loved the way that he is continually surprised by her and the way her love opens his heart and starts to heal him. Laylah was perfect for him. She had loved him her whole life, but never expected to actually be with him. I love the way she stands up to him at the beginning, basically bullying him into doing what she wants him to do. I loved the way she was so fierce in the way that she showed him that his scar didn't matter to her, that her love went beyond that. Even through her feelings of betrayal toward the end of the book, she never stopped loving him. The feelings expressed by both characters were intense and had me in tears at one point, I was so involved. I also liked the way that the loose ends were tied up. I have also enjoyed the richness of the descriptions of the people and places - they make the story so much more real to me.