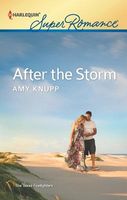 Series: Texas Firefighters (Book 6)
With a hurricane heading for the Texas coast, Nadia Hamlin needs to evacuate. Now. Before she can leave, however, there's one more thing she has to do -- despite the risk. But that delay lands her trapped in her car in the middle of the storm. Fortunately, firefighter Penn Griffin arrives. Unfortunately, her good-looking rescuer suffers a career-ending injury in the process.
The only way Nadia can think to make amends is to help Penn get back on his feet. Even if he doesn't want anything to do with her, she won't give up. Her determination has an unexpected impact. Because soon he can't seem to get enough of her.
Very good book. When Penn ended up injured after trying to rescue Nadia it ended his career as a firefighter. As this is all he ever wanted to do he is trying to figure out what he wants to do with the rest of his life while he recovers. He had been attracted to Nadia for several months but after two disastrous dates caused by crises at work he gave up on her. He felt that it was important to have some balance in life and she just didn't get it. When he was recovering from his injury Nadia kept coming around trying to help. He is angry about the loss of his career and always seems to take it out on her. He knows he shouldn't and that it isn't really her fault but he can't help himself. He also can't stop the attraction that is still there. He finds himself seeking out her company and enjoying it, but also still has bursts of anger that he only shows to her. I liked the way that Penn would seek her out even though he kept trying to fight it. I also liked seeing his interaction with his sister. I also really liked the way that his mom came to visit and how she got to see what his life at been like as a firefighter. It went a long way to mending the rift between them. When he went back home to visit it gave him a chance to admit to himself that he was scared of the future without firefighting and actually think about his relationship with Nadia. Nadia was definitely a workaholic with the way she was doing so much with the hotel. She found that crises always seemed to interrupt her social things so she gave up on them and just worked. She felt horribly guilty that Penn had been injured while rescuing her and was determined to help him. She refused to let his anger and rudeness drive her away for long and kept going back. I liked the way that she was there for him when he needed to talk and the way that she would practically force him into doing things. She also still felt a strong attraction to him but because of his injuries they kept getting frustrated. I liked the way that she would try to get him thinking about his future. When they visited the site of a fire she had a marvelous idea but he was still resisting any talk of what he would do once he recovered. When her mom told Nadia that she was thinking about selling the hotel Nadia finally understood how Penn was feeling, which gave her a bit more empathy when dealing with him. I loved the ending and the way that Penn was finally ready to move on.