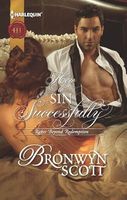 Series: Rakes Beyond Redemption (Book 3)
Riordan Barrett: Last Rake Standing
With his comrade rakes-in-arms succumbing to respectability, anyone might think that wicked Riordan Barrett is next. But such happy endings aren't for him -- the whole of society knows there isn't a redeemable bone in his sinfully sexy body.
Suddenly Riordan finds himself not only an earl…but father to two young wards! His only experience is in the art of irresponsibility. This rake needs help -- and hiring a young, pretty governess won't be such a hardship! Sweet, innocent Maura Caulfield is the only lady in London seemingly unaware of Riordan's disreputable ways. But it won't stay like that for long. He'll show her just how much fun sinning can be….
Good book. Maura is on the run from a man that her uncle wants her to marry. She has come to London to get away and takes a job as governess to Riordan's wards - their sixth governess in just a few weeks. She was warned that he's a rake, but wasn't expecting him to be so young and handsome. She tries to get the children into some kind of routine, but is constantly thwarted by Riordan who likes to spend time with them and take them on outings. She also tries to resist the attraction she feels for him, knowing that nothing can come of it. She soon comes to realize that she has fallen in love with him. Maura fears that her uncle will find her and force her into the marriage. When she and the children are kidnapped she must depend on him for rescue. Riordan is the last of his friends to be unmarried. He has thoroughly enjoyed his reputation and taken advantage of it. When his brother dies and he is left as guardian for two young children he has to step up. He has had several nannies for them, but between his reputation and the exuberance of the children, none of them have lasted. When Maura arrives to take her chance he is immediately attracted to her and tries to figure out how to take advantage of it. He also discovers that she is very good with the children and gives them the love and structure that they need. He also finds that Maura's presence soothes his guilty feelings over the death of his brother. When his custody of the children is threatened, he enlists her help to keep them. When they are kidnapped he calls on his friends (from How to Disgrace a Lady and How to Ruin a Reputation) to assist him in saving the day. He also realizes that he loves her for herself and not just to help the children.