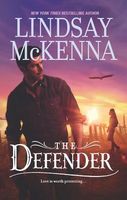 Series: Jackson Hole Wyoming (Book 6)
After escaping her troubled past, all Katie Bergstrom wants is to put down roots on her raptor rehabilitation facility outside Jackson Hole. She doesn't count on reconnecting with her estranged birth mother -- or the recent appearance of a sexy ranch hand.
F

ormer

M

arine Joe Gannon is used to a life of risk. Working on the ranch, life is simpler…except for the undercover work he's been asked to do. Getting too close to Katie could damage his current operation. Yet despite his orders to remain suspicious, he knows she's innocent -- and in danger. As he does everything he can to protect her, Katie can't help but fall for him. But after a lifetime of betrayal, is this too-secretive, too-seductive rancher someone she can trust?
Very good book. I really liked both Katie and Joe. Katie was running a raptor rehab facility. She got into raptors as a foster teen and they have been her life ever since. She has also wondered about her birth mother and when she finds out about her she makes contact. Her mom isn't what she expected but she wants to know her anyway. Katie also hires Joe to help at the raptor center. She is attracted to him and feels that he is a man she could fall for - he seems to be a very good guy, honest and honorable, and the birds like him. For all her rough childhood Katie is a very optimistic, sweet young woman, who tends to see only the good in people. Joe is back in Jackson Hole after being injured in Afghanistan. He got interested in falconry while he was in rehab and the FBI recruited him to check out Katie and see if she is involved in her mother's illegal activities. His first impressions of Katie are that she is innocent. He finds himself very attracted to her and feels very guilty about hiding his true purpose. He worries that their new relationship won't make it when she finds out. I loved his protectiveness towards her. The first half of the book had some great information about the birds and the rehab process. I really enjoyed reading about them. The second half had more action as the drug trafficking heated up. It definitely kept me turning the pages. I enjoyed seeing characters from previous books, including Iris and Kam. I did not like Joe's FBI boss much, I thought he could have been a bit more proactive where Katie's safety was concerned.