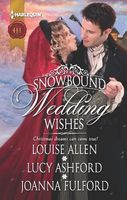 An Earl Beneath the Mistletoe by Louise Allen
Hugo, Earl of Burnham, hates Christmas! Snowbound in widow Emilia Weston's cozy alehouse, with her young twins, he's surrounded by festive preparations. Hugo's cynical heart is in danger of being melted... How much longer can he avoid the mistletoe?
Hugo is headed home after being away in the war. He has no good memories of Christmas and tends to avoid any celebration of the holiday. When he is caught in the storm and takes refuge at Emilia's alehouse he doesn't expect to enjoy himself. There is something about her kindness to him and others that begins to melt the ice around his heart. Emilia has been making do the best she can after the death of her husband. She is attracted to the handsome stranger, but knows that someone like him could never have a future with someone like her. I really liked the way that Hugo was able to become a part of the community and help with the storm and with Emilia and her children. In spite of the fact that he had no experience with the emotion of love, he was able to open himself up to the possibilities.
Twelfth Night Proposal by Lucy Ashford
Leaving London to claim his newly inherited estate, Theo Dalbury finds remote Derbyshire as foreign to him as his feelings for country girl Jenna. Christmas evokes painful memories for him, but Jenna is bringing out his festive spirit - and will give him a yuletide that he'll never forget!
Theo was completely out of his element in the wilds of Derbyshire when he went to check out his new estate. His intention was to investigate the land, do what he needed to and return to London and find a wife. He didn't expect to be attracted to Jenna and to find himself drawn more and more into local life. He had a bit of tunnel vision at first, not seeing the treasure that was right in front of him. I did like the way that he tried to look out for Jenna and her mother, even though he didn't go about it very well. Jenna knew a lot about the estate since she grew up there. I liked the way that she tried to show Theo all the good things about it, and how she stood up for the people against the corrupt steward.
Christmas at Oakhurst Manor by Joanna Fulford
Vivien Hastings is looking forward to a quiet Christmas at Oakhurst Manor, until she realizes she'll be sharing it with Max Calderwood. It's been years since he broke her heart, but one hot glance from his cool gray eyes shows her that she's just as vulnerable to him as she ever was...
I really enjoyed the story of second chances. Vivien and Max had parted ten years earlier. He went off to India to make his fortune and she married someone else. Now he's back and she's a widow. Max realized early on the he had been a fool to leave her behind, and now wanted a chance to win her back. I really liked the way that he was so good with the children and that he was determined to show her that he still cared. Vivien knew that she still loved Max, but she was afraid to trust him with her heart. I really enjoyed seeing them get to know each other again and finally find their happy ending.