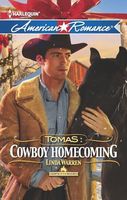 Series: Harts of the Rodeo (Book 6)
A Hart's Greatest Gift
Marine Staff Sergeant Tomas "Tuf" Hart is beginning to understand why they say "you can never go home again." Still grappling with the mental scars of battle, Tuf's just learned that Thunder Ranch is in trouble. Now, the Harts are banking everything on their stallion, Midnight, winning the National Finals Rodeo. The only easy part of Tuf's homecoming was falling for his high school crush all over again.
Cheyenne Sundell has always been drawn to Tuf. But as a single mom of twin daughters, she's wary of getting involved, especially with another military man. Cheyenne's disastrous marriage taught her that war changed men, and not always for the better.
Tuf and Cheyenne have been through hell and back. But with a little hope and a lot of holiday spirit, they just might find a way to heal themselves...and each other.
The last book in the Harts of the Rodeo series, this was an excellent story. Tuf has finally come home, two years after returning from Afghanistan and not seeing or talking with his family that whole time. The family has worried about him, but tries to give him the space he needs. I really like both Tuf and Cheyenne. Through the previous books Tuf has been mentioned, missed and worried about. When he makes it home he is surprised by all the changes. I liked the way that he sat the family down and explained where he had been and why he hadn't been in touch. The only thing he didn't tell them about was his nightmares, because he didn't want to worry them more. I really liked the way he was honest about seeing the counselors and that he was working through his problems. I also really liked the way that he helped Cheyenne's little girls with their own issues and the way that he fell so hard for her. It was nice seeing the romance develop over time. Tuf was worried about his nightmares and how they would affect his relationship with Cheyenne, and they did end up causing him to pull away from her. It took finding the source of his nightmares for him to realize that what he really needed was Cheyenne. Meanwhile Cheyenne was having to deal with her own issues regarding her relationship with Tuf. Her late husband had returned from war also suffering. He did not deal with it well and ended up being abusive before finally killing himself. She was reluctant to get involved with Tuf for fear of having the same problems. His patience soon showed her that he was totally different and she soon hoped for a happy future. She was devastated when he pulled away after one of his nightmare episodes, and only wanted him to trust her enough to let her help. I loved the way they finally worked everything out, and the conclusion of the rodeo was fantastic. The little girls were wonderful and I really enjoyed seeing the way they had Tuf wrapped around their little fingers. The other great part about this book was seeing how the rodeo work went and seeing Midnight reach his potential.