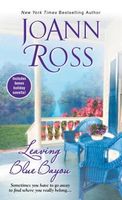 "Cajun Heat" - Movie star Gabe Broussard has come back to his Louisiana hometown for some peace, but things only heat up the minute he reunites with Emma Quinlan. With her lush body and hearty appetite, she's no Hollywood matchstick, and oh cher, does he like that. Emma just has to stop thinking about her former Cajun crush, so she makes a list of all the things she wishes he would do to her and buries it in a graveyard at night. Except it's the wrong list - Gabe finds the right one, and he intends to fulfil every blissful one of them...
Originally published in Bayou Bad Boys. I really liked Gabe and Emma. Gabe has escaped to Blue Bayou from Hollywood after ten years away. There he is reunited with Emma, who had had a major crush on him when they were teenagers. I loved the way that he was immediately attracted to Emma and appreciated her just the way she was. It started out as just physical, but became an emotional attachment very quickly as he learned that he actually liked the woman she had become. Emma had some self esteem issues thanks to her over critical petite and skinny mother. Her immediate attraction to Gabe, even after all these years was a surprise, but his attraction to her was an even bigger surprise. She initially didn't believe it was possible, and tried to convince herself she wanted him to go away. When he discovered some of her fantasies, he was only too willing to fulfill them. I loved the final scene and the way Gabe stood up to her parents. This story was definitely hot, but had great emotion too.
"Love Potion No. 9" - It's bad enough that Hollywood hotshot Sloan Hawthorne's knowledge of Roxi Dupree's witchcraft comes from comic books and fairy tales. What's worse is that she's falling hard for the outrageously sexy hunk. Pretty soon they're both finding that the steamy Savannah nights are perfect for conjuring up some mischievous magic of their own...
Originally published in Bad Boys Southern Style. I liked Sloan and Roxi. Sloan had come to Savannah for two reasons: one, to do research for his next movie and two, to see Roxi who he had seen as picture of at his friends Gabe and Emma's house. He had been drawn to her and seeing her in dreams. His attraction only grew when he met her in person. He used that attraction to get close to her and the movie to get to know her better. I liked the way he ended up being open to who and what she was in spite of his initial disbelief. I also liked the way that he didn't try to bulldoze her at the end but left her to make her own decision. Roxi was a cool character. I've had a soft spot for Wiccan characters in romances ever since I read Nora Roberts' Three Sisters trilogy. Roxi was very comfortable with who she was. She did have commitment issues and had a rule that she wouldn't have more than three dates with any man. She was very attracted to Sloan and fully intended to enjoy her three dates and the passion that sparked between them. She did not expect an emotional attachment to happen so quickly and it made her very nervous. She was stunned when Sloan left after two dates and told her to let him know when she was ready. Another hot story with believable emotions.

"Dear Santa...": Mystery author Holly Berry's SUV has broken down in the little hamlet of Santa's Village, Washington. Holly hates the holidays - that is until lodge owner Gabriel O'Halloran and his five-year-old daughter rekindle her belief in passion, magic, and Christmas wishes...
Originally published in Silver Bells. I liked Holly and Gabriel. Holly got lost in a snowstorm then had a wreck in her car. She was rescued by Gabe and ended up staying at his family's inn while her car is repaired. Holly has not celebrated Christmas since her father's Christmastime murder when she was seven. The over-the-top Christmas town bothers her at first, but the more time she spends with Gabe and his daughter, the more she gets into the spirit. I liked the way that she started to get involved in everything, even though parts of it she still didn't believe in. Gabe was surprised to be so quickly attracted to Holly. There was something beyond the physical that also appealed to him and he was determined to see it grow. I loved his sense of humor and the way very little seemed to bother him. I also liked seeing the way he had rearranged his life so he could be a better father to his daughter. I loved the final scene in front of the Christmas tree - it definitely had overtones of Miracle on 34th Street.