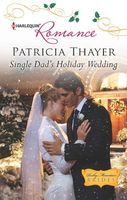 Series: Rocky Mountain Brides (Book 4)
A mommy for Christmas?
Summoned back to her hometown, Lori Hutchinson hides her apprehensions behind a dazzling smile. She may be totally out of her depth, stepping into her father's corporate shoes, but she has a job to do....
Single dad Jace has learned to rely only on himself and his adorable little daughter. His construction business now depends on him working with Lori-so Jace sets out to prove who's boss....
But with the holiday season drawing near, it's not all just business. Jace discovers a sweet, generous woman hiding behind those pinstripes....
Good book. Lori and Jace get off to a rough start when he confronts her over the need for her to continue her father's involvement in his construction project. Once Lori learns everything she has to do with her inheritance, she and Jace are able to come to an agreement. There was also an intense attraction between them that neither was comfortable with. Jace is trying to get his business going again after being cleaned out by his ex-wife. He is also trying to gain full custody of his daughter. The last thing he wants is a distraction like Lori, but he can't seem to stay away. Besides his attraction to her, he also likes the way she relates to his daughter and the care she shows for the people of the town. When his ex-wife comes to town Jace has to decide how best to protect his daughter. Lori hadn't seen her father since she was seven years old and was stunned to find out he'd left her everything, with the condition that she stay and run it all for a year. She initially felt unsuited for the task, but quickly took control. She and Jace soon found that they worked well together. I loved the way she took control at the bank and put her own stamp on the way things were done. She realized that she was falling hard for Jace and his daughter and wasn't sure what that meant for their future.