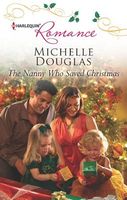 This Christmas, Nicola McGillroy will:
Be a great nanny to Cade Hindmarsh's two adorable little girls, and give them the best Christmas they've had since their mother left.
Enter into the Christmas spirit and forget the fact she should have been planning her own wedding right now.
Keep a straight head in her attraction to her gorgeous off-limits boss... Surely this is just a rebound thing and not true love-for both of them?
Good book. Nicola has taken the job as a nanny to get away for awhile. Her fiance broke up with her to marry her best friend and she just can't deal with all the sympathy right now. Nicola is going to take this time to get her life in order. She didn't expect to fall in love with the two little girls or be so attracted to their father. I liked Nicola and Cade. Nicola has taken the initiative to get away for awhile and also take that time to work on the things she wants to change. I did notice immediately that she has some real self-esteem issues. Much of this was caused by her mother's attitudes, but some were caused by her broken engagement. She also had a real lack of Christmas spirit because of it. I loved the way that she immediately took to the kids. She was great with them and seemed to know just how to deal with some of their problems from their mother's desertion. Her attraction to Cade was something she didn't want to deal with, but it wasn't going away and he was feeling it too. Cade did a great job of helping her face her feelings and was also able to get her to enjoy the Christmas season. Nicola was also envious of his close family and really enjoyed being a part of it over the holiday. By the time Christmas was over she knew she had fallen in love with Cade, but also realized that he wasn't ready. When she went home she was sure she'd never see him again. Cade was definitely a tortured hero. He had been devastated by his wife's desertion and now had no intention of falling in love again. He was immediately attracted to Nicola, making him feel things he hadn't felt in a long time. He also like Nicola the way she was and couldn't understand why she didn't. I liked the way that he seemed to be able to see what she needed and was able to help her with it. I really enjoyed seeing him try to make this Christmas so wonderful for his kids. I also enjoyed seeing him show his love for them so much. He was falling in love with Nicola, but hadn't let go of his past. When he proposed to Nicola it was for all the wrong reasons and when she turned him down he was surprised. I really liked the way that Nicola's refusal made him take a good look at himself. I liked the way he came to her at the end.