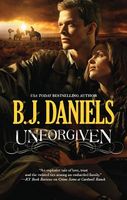 Series: Beartooth Montana (Book 2)
In Beartooth, Montana, land and family are everything. So when Destry Grant's brother is accused of killing Rylan West's sister, high school sweethearts Destry and Rylan leave their relationship behind in order to help their families recover from tragedy.
Years later, Destry is dedicated to her ranch and making plans for the future. Plans that just might include reuniting with the love of her life…until her brother returns to clear his name and the secrets of the past threaten her one chance at happiness.
Rylan is done denying his feelings for Destry. But when clues begin to link her brush with death to his sister's murder, will discovering the truth finally grant them their chance at love or turn them against one another for good?
Excellent book. Eleven years after his sister's murder and the end of his romance with Destry, Rylan has returned to Beartooth. He's tired of living on the road. When Destry's brother Carson, who was suspected of Ginny's murder, returns, Rylan is determined to find the proof to put him behind bars. This puts him in conflict with Destry yet again, as she is still certain of Carson's innocence. I liked both Rylan and Destry. Rylan had some real tunnel vision when it came to Carson, he was so sure that he was responsible. When he saw Destry again, he realized that he still loved her, but was just as convinced that there was no future for them. I liked the way that he actually started to listen to her when she told him that maybe he hadn't looked at all the facts. It didn't take long before he and Destry started working together to try to find out the truth. I liked the way that Destry was so comfortable in her role on the ranch. She knew that she was happy there. She also had a very rocky relationship with her father, the reason for which comes out later in the book. When her brother returns she is determined to prove him innocent. She also has to find a way to help him deal with his other problems. As she and Rylan work together she admits that she has never stopped loving him. They have to decide if their love can overcome all the obstacles. I liked the longer length of this book. It allowed for more characters and more depth of character. There were quite a few twists and turns that had me guessing as to the identity of the murderer. I'm really looking forward to the next book.