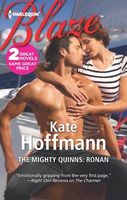 Series: The Mighty Quinns (Book 21)
He didn't stand a chance…
There's a curse in Sibleyville, Maine. Thanks to a long-ago feud between the Sibleys and the Quinns, residents are destined never to find lasting love together. Unfortunately, when Ronan Quinn steps off the bus in Sibleyville, he has no idea what he's stepped in…until the very sexy Charlotte Sibley gives him a job, a room and the scoop on her family's 200-year-old curse!
Still, there's a feverish attraction heating up between Ronan and Charlotte. And with Ronan leaving in six weeks, they'll make every second -- and every night -- count! But now, convinced that a Sibley-Quinn marriage could finally end the curse, everyone in town is suddenly a matchmaker.
But do Ronan and Charlotte really want to turn this Fun Little Fling into a Forever?
Loved the book and Ronan and Charlotte. Ronan is the youngest of the brothers and seems to have been affected the most by the loss of his parents. He had nightmares as a kid and was never able to go back out on the ocean with his brothers. He also became a bit of a loner, happiest when doing things by himself. When his grandfather sends him off to Maine, he isn't sure what is going to happen. When he lands a job with Charlotte Sibley at her oyster business he is stunned by the immediate attraction he feels for her. He's even more surprised to find that she feels the same about him. He finds that he really enjoys his work in the oyster business and can truly see himself staying there. He also finds that the more time he spends with her the more he likes Charlotte. That liking and the passion they share have him more convinced that he wants to keep her in his life forever. I really like the way that Ronan is so laid back. He is really good at not letting things bother him too much, even the matchmaking attempts of the whole town. I also liked the way that he was able to open up and share his feelings with her the way he never had with anyone else. It was one of the things that made him realize how much he loved her. I really liked Charlotte also. She was very independent but also family oriented. She chased her dream in New York, but came home when she discovered that home meant more to her. After her father's injury she's been running the business and is glad to take on Ronan as an employee. She is surprised by their attraction and quite willing to enjoy it. She and her family don't believe in the curse but everyone else in town does and it makes her crazy. She can't stand the way the whole town is trying to push them together into marriage, when she knows he's supposed to leave in six weeks. As they spend more and more time together they learn about each other's pasts and she discovers that she is falling in love with him. She has some soul searching to do when she has to decide if it's really possible for her to have fallen in love in only three weeks. I loved their relationship which was not only passionate but also full of fun. They worked well together from the very beginning. I also really liked her family which was full of some unique personalities. The meeting of the grandfather and the four brothers and their ladies was the perfect wrap up to the series.