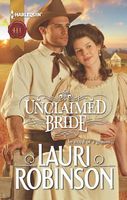 Running from the past…she bumps into her future!
Mail-order bride Constance Jennings steps off the stage in Cottonwood, Wyoming, and waits for her husband-to-be. But he never shows up, and instead several other men are vying to take his place!
Single father Ellis Clayton must be the only man in town not looking for a bride. But his young daughter's habit of rescuing wounded critters means he ends up offering Constance a temporary shelter.
Having a woman around the house again is all too easy -- especially seeing her bond with his daughter -- but Ellis can't seem to let go of the past. Problem is, neither can Constance. And hers is about to catch up with her….
Good book. I liked both Constance and Ellis. Constance had arrived in Cottonwood as a mail order bride, only to discover that her groom had died. She had nowhere to go and was dismayed to see that there was a line of men wanting to claim her. Then Angel, the young daughter of Ellis, talked her dad into inviting Constance home with them. In exchange, Constance offered to be housekeeper and tutor to Angel. Ellis had lost his wife many years before and never expected to be attracted to anyone else. I really liked the way that he was such a good father to Angel. The love he had for her was obvious and he had done a good job of raising her. He knew that there were still things she needed to know, so he was very happy to take Constance up on her offer. He loved having her there and the house quickly felt more like a home. He neglected to tell her about the property she had inherited from her almost groom because didn't want her to leave. I liked the way he wanted to protect her from the man who tried to kill her and loved the way he was able to help her at the end. Constance had come west as a mail order bride because she thought that she would be arrested for something she didn't do. A man had taken advantage of her in England and then tried to kill her to get the land she had inherited from her parents. She was glad to go home with Ellis and Angel and grateful to have a way to repay them for giving her a place to stay. She quickly grew to love Angel and was wonderful at giving her the guidance she needed. I loved the way that she was able to make the house seem so much more welcoming for Ellis and Angel. I also liked the way that she fell in love with Ellis but didn't want to risk harm coming to them from her past coming after her. There were some fun parts in the book, especially the episode with the bananas that Ellis brought home for her. I really liked the way that Constance was able to show Ellis her love once they got all their misunderstandings out of the way.