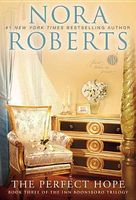 Series: Inn Boonsboro (Book 3)
Ryder is the hardest Montgomery brother to figure out -- with a tough-as-nails outside and possibly nothing too soft underneath. He's surly and unsociable, but when he straps on a tool belt, no woman can resist his sexy swagger. Except apparently Hope Beaumont, the innkeeper of his own Inn BoonsBoro…
As the former manager of a D.C. hotel, Hope is used to excitement and glamour, but that doesn't mean she can't appreciate the joys of small-town living. She's where she wants to be -- except for in her love life. Her only interaction with the opposite sex has been sparring with the infuriating Ryder, who always seems to get under her skin. Still, no one can deny the electricity that crackles between them…a spark that ignited with a New Year's Eve kiss.
While the Inn is running smoothly, thanks to Hope's experience and unerring instincts, her big-city past is about to make an unwelcome -- and embarrassing -- appearance. Seeing Hope vulnerable stirs up Ryder's emotions and makes him realize that while Hope may not be perfect, she just might be perfect for him…
Excellent conclusion to the series. I really liked both Hope and Ryder. Hope is very focused and detail oriented which makes her an excellent innkeeper. She is also very independent. She is not looking for love as she was badly burned by the last guy she was involved with. However she couldn't deny that there was definitely something between her and Ryder. Most of the time they were pretty snarky to each other. At the beginning of this book the attraction is starting to win out over the snarkiness. Once they give in to the attraction their interactions are great. I love the way Hope keeps trying to convince herself that what they have is just sex, even as it becomes obvious that she's in love with him. Ryder is fun to watch. He is so gruff and surly around Hope that she feels like he just doesn't like her. The problem is that he's attracted to her and doesn't want to be. He likes being with women without worrying about commitment. He doesn't understand why he is attracted to her. He enjoys their physical relationship, but finds his fascination with her outside that relationship disturbing. In spite of his attitude around Hope it is easy to see what a good guy he is by his relationships with his family. I really enjoyed seeing him with his nephews. Outside of the romance, I loved the ongoing mystery of the ghost and finding out her story. It is resolved by the end of the book with a pretty interesting twist. I loved the way that she assisted in the romance between Ryder and Hope. There is also a really great middle-of-the-night scene involving her and an obnoxious guest. There is also a wonderful scene in which Ryder gets involved when Hope's ex-boyfriend's wife comes to town and he goes into protector mode. It causes things to get a little rough between Ryder and Hope as they learn to accept the way each other deals with problems. Yet again Lizzy helps them sort things out. I also really enjoyed this trilogy because of its return to Nora Roberts' romance roots.