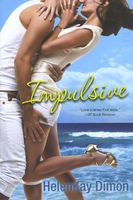 Series: Men of Hawaii (Book 5)
Trouble In Paradise...

Katie Long was supposed to be undercover. She was just supposed to watch Deputy Prosecutor Eric Kimura at his ex's wedding and gather intel on his campaign for prosecutor. But he's a lot hotter in person, and the kind of intel they accidentally shared in the hotel bathroom might lose both of them their jobs. Especially since it seems to be a recurring incident. Is it possible for a one-night stand to last ten days?

Kimura isn't usually the impulsive type. He's driven, he's ambitious, and he knows what he wants -- a respectable future in Hawaii politics. Which means wild half-public sex with a beautiful stranger in a short little caterer's skirt is just tabloid fodder waiting to happen. Conveniently, just as his campaign is coming under attack. Sabotage, media gossip, and an insatiable desire for a woman he just met? If he's not careful, Counselor Kimura might lose all control...
Really good book. Katie and Eric just can't stay away from each other. I really liked

both of them

. Katie was a wild child that is finally getting her life on track. She didn't expect the immediate attraction to Eric. She also didn't expect to actually like him. She wants to end her job following him so she can just be with him on her own, but ends up staying on to keep someone else from doing it. She finally confesses to Eric what is happening which naturally creates some conflict between them. Because of things in her past she has some trust issues which feed into her relationship with Eric. I liked the way that they always managed to talk things out. Katie started out seeming kind of immature, but did a lot of growing up in this book. Eric is older and more settled. He is also a nice guy at heart. He has political ambitions and is worried that his encounters with Katie could be a setup. Their chemistry is incredible and he just keeps going back for more. He really likes her and when some bad stuff starts happening he doesn't want to believe she is behind it. They figure out that there is someone else is and they need to find out who it is. The final confrontation was very good. I loved the dialog between the two of them. She is pretty sassy, which is something that Eric is not used to. Their relationship also causes Eric to look at his workaholic ways and realize that he wants more balance in his life. This was a really fun book to read.