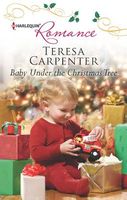 Series: Princess Camp (Book 2)
Gift-wrapped family
San Diego hockey team's PR director Elle Austin goes beyond the call of duty to keep their rebel captain in check-even playing nanny to his son!
Max Beasley knows nothing about looking after a baby, so he enlists Elle's help after little Troy is left on his doorstep by his irresponsible ex.
Maybe it's the spirit of Christmas, or seeing Max's softer side, but Elle wishes he saw her as more than just an employee, and that they could give Troy the best gift of all-a family!
Excellent book. I really liked both Elle and Max. Elle is the youngest in a family with four older brothers. She has been inundated in the sports world all her life. She would really like to find a man who can also appreciate other things in life. When she is called in to help Max with his son, she is very leery. Max is known as The Beast on the ice and is famous for being a commitment phobic loner. She has been unwillingly attracted to him for months, but he doesn't fit her idea of what she wants. As she helps Max with Troy, she begins to see another side of him. She is impressed by his determination to reclaim custody of his son and how good he is with the little boy. As she finds out more about his past she discovers why he seems to keep everyone at a distance, but it only makes her want to get closer to him. I love the way she is able to stand up to him when she's trying to do her job and help him. She is very good at not being intimidated. There is a great scene at a family birthday party when she lays into her brothers for being obnoxious, and another when she faces down Troy's mother. Max was a very interesting guy. He is very intense when he's playing hockey, and very much a private guy off the ice. When we first see him, Elle is bailing him and his teammates out of jail after a fight. It's soon obvious that he is a good influence on the team, even though he doesn't see it. He's a bit lost when he first takes over full time care of Troy. He appears to take great pleasure in making things tough for Elle and playing the bad boy with her. He had been attracted to her for a year, but because of his past feels that he has nothing to offer her. I loved seeing him open up to her in a way he never has with anyone else. There are some great peeks into his past and the things that made him the man he is. I loved the scene with him and Elle's family. I also loved the final scene at the Gala - an absolutely perfect ending.