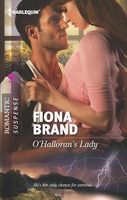 "It's been nine years. I still want you."
World-famous writer Jenna Whitmore has her share of fans. She just never thought one would be out for blood. There's only one man she can trust with her life, VIP security expert Marc O'Halloran. He left her years ago without a word, so how can she ask him for help now?
Marc had failed to save his wife and child once. There's no way he's letting anything happen to Jenna. Whatever their relationship had been, or is destined to become again, he's keeping it all about maintaining Jenna's safety. Marc will protect the woman who's given him something to live-and die-for.
Good book. I liked both Jenna and Marc. Jenna has become a bestselling author since she had dated Marc. Now she has someone stalking her and trying to kill her. When she decides she needs protection she goes to Marc and his security firm. She had broken up with him because she couldn't handle his dangerous profession as a cop. Now that she is older and spending more time with him, she realizes that she had never forgotten him. As the danger increases and they are together constantly their attraction escalates and they give in to it. I liked seeing the way that Jenna accepts that she has changed her attitude toward Marc. I also liked seeing the way her mind worked and how some of the things she said helped Marc figure out the bad guy. Marc had spent the last six years trying to solve the mystery of who had been responsible for the deaths of his wife and son. He didn't really want to provide Jenna's protection because he thought it would be a distraction from his search. Jenna herself was the biggest distraction for him. He also realized that he had never forgotten her. I liked the way he was such a closet fan of her books and how he was able to make the connections between her latest book and her stalker. He also had a surprise twist for her at the end that I really enjoyed.