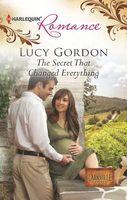 Series: Larkville Legacy (Book 6)
One night in Rome...
Tired of being in the shadow of her prettier, more popular sisters, Charlotte Patterson decides to leave Manhattan behind and discover just what Italy's la dolce vita has to offer-good food, fine wine...delicious men?
But even Charlotte's Roman holiday can't help her escape a devastating family secret back in Larkville, Texas, and she finds herself seeking solace in the arms of mysterious widower Lucio Constello. Unable to deny their attraction, they share one intensely passionate night together-a night that will affect them more than they could possibly imagine....
Very good book. Charlotte has run away to Italy and is enjoying the traveling and learning more about Italy. One night in Rome she meets Lucio and has an incredible night with him. In the morning he is gone and she goes on with her travels. A couple months later she tracks him down and lets him know that he is going to be a father. I really liked both Lucio and Charlotte. His fiancee had died in a tragic accident shortly before they were married. He had loved her very much and felt guilty over her death. He made the decision that he would stay in control of his emotions and avoid love. By keeping himself apart he could avoid hurt. When he met Charlotte there was something that drew him to her. He liked her attitude and her complexity of personality. The intensity of their passion spooked him and he left while she was sleeping. He was stunned when she gave him her news, but then asked her to come and stay with him while they decided what to do. He was impressed with the way she interacted with his fellow businessmen and really enjoyed getting to know her. He was incredibly protective, but still tried to keep his distance. He nearly lost everything before he realized the depth of his feelings. Charlotte was trying to cope with the revelations about her family. She was also feeling very much an outsider to them as she was the last to know about it. She met Lucio when she was feeling vulnerable and he seemed to know how she felt. When she went to him with her pregnancy she wasn't expecting to be made part of his life. She quickly felt more at home there than she did with her own family. She also found herself falling hard and fast for Lucio the more she got to know him. She also got the feeling most of the time that he didn't feel as strongly about her, but she was willing to be patient. She would occasionally catch a glimpse of something that would give her hope, but she didn't get the words she needed. I really liked the ending and the way that Lucio chose to show the depth of his love. I also loved the tour of Italy I got while reading this book.